Discover a new level of interaction
with this UltraHD display
75″
Edge-lit LED
Ultra HD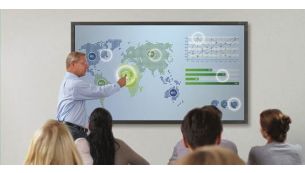 Experience amazing interactivity with true Multi-Touch
A brand new level of interactivity is now available thanks to integrated touch technology. More flexibility and optimum simultaneous touch performance coupled with excellent operability opportunities give you the ultimate in user interaction. Multi-Touch displays are equipped with automatic touch recognition. The USB connector is HID-compliant, providing true plug-and-play operation.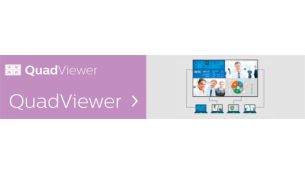 Play content from 4 separate inputs with QuadViewer
Be more flexible with your screen real estate. With the ability to play content from up to four separate inputs, all on one screen, QuadViewer is ideal for control rooms, corporate environments and meeting rooms.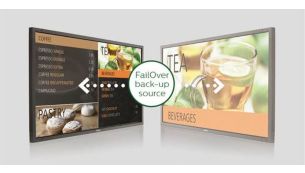 Keep your content up and running with FailOver
Keeping your content up and running is critical for demanding commercial applications. While it is unlikely you will face a content disaster, FailOver provides content protection with a revolutionary technology that plays back-up content on screen in the event of a media player failure. FailOver automatically kicks in when the primary input fails. Simply select a primary input connection and a FailOver connection and you're ready for instant protection.
Technical Specifications
Picture/Display

Diagonal screen size (metric)

189.3  cm

Diagonal screen size (inch)

74.5  inch

Panel resolution

3840 x 2160

Optimum resolution

3840 x 2160 @ 60 Hz

Brightness

410  cd/m²

Contrast ratio (typical)

1200:1

Dynamic contrast ratio

500,000:1

Surface treatment

Anti-Glare coating

Aspect ratio

16:9

Response time (typical)

8  ms

Pixel pitch

0.429 x 0.429 mm

Display colours

1073 M

Viewing angle (horizontal)

178  degree

Viewing angle (vertical)

178  degree

Picture enhancement

3/2 – 2/2 motion pull down

3D Combfilter

Motion compens. deinterlacing

Progressive scan

3D MA deinterlacing

Dynamic contrast enhancement

Panel technology

IPS

Interactivity

Multi-touch technology

Infrared touch

Touch points

10 simultaneous touch points

Plug and play

HID compliant

Protection glass

5 mm tempered safety glass

Anti-Glare

Anti-Reflective